If you've been following
March Interview Madness
then you are well aware of the amazing giveaways currently being offered by six of the interviewees. This post is a roundup of the giveaways and offers you a last chance to enter to win an awesome product!
How To Win
To win one of the giveaways, you must either:
1. Retweet the giveaway using the appropriate links below.
2. Become a fan of the Elite by Design Facebook page.
You have until April first to either tweet the giveaways or become a fan to be eligible for a prize. The winners will be randomly drawn from the pool of people that retweet a giveaway or are a fan on Facebook. I will announce the winners during the first week of April.
The Giveaways
WooThemes
As a compliment to this interview, Adii has kindly donated three developer theme packages from WooThemes to you, Elite By Design's readers. That's $450 worth of WordPress themes!
StudioPress
Brian Gardner has very kindly donated three Studio Press theme packages to you, Elite By Design's readers. Each theme package is worth $60 and provides access to Studio Press's support, tutorials, and the ability to download any future upgrade to the theme.
Elegant Themes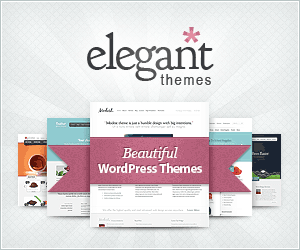 Nick Roach has generously donated two Elegant Themes subscriptions to you, Elite By Design's readers. Each subscription is worth $20 and is valid for one year. During your subscription you will have access to all of the amazing WordPress themes on Elegant Themes!
Spoon Graphics Access All Areas
Chris Spooner has considerately donated two subscriptions to Spoon Graphics Members Area. This great subscription, which normally costs $7 per month, included members-only tutorials, downloadable source files, discounts, and giveaways.
Logo Design Love Book
David has generously donated two copies of his Logo Design Love book to Elite by Design readers. This book is an insightful look at how to work with logos, deal with clients, and employ the creative process across a broad spectrum of design genres. You can download a free chapter or read some reviews to see what the book is all about!
Pro Theme Design
Darren has been kind enough to offer a copy of the Elemental Theme ($59) and a copy of Mimbo Pro ($79) to Elite by Design readers. These themes are beautifully designed, easy to use, and come with support from Darren's team at Pro Theme Design.