Jacob Cass is an incredibly talented logo designer and blogger under the name Just Creative Design. He has worked with clients from around the world and has recently moved to New York City to work with Carrot Creative. In this interview, I talk in-depth with Jacob about his work, his designs, and the values of freelancing.
Name: Jacob Cass
Location: New York City
Site(s): Just Creative Design, Logo Designer Blog, Logo of the Day
Twitter: @Just Creative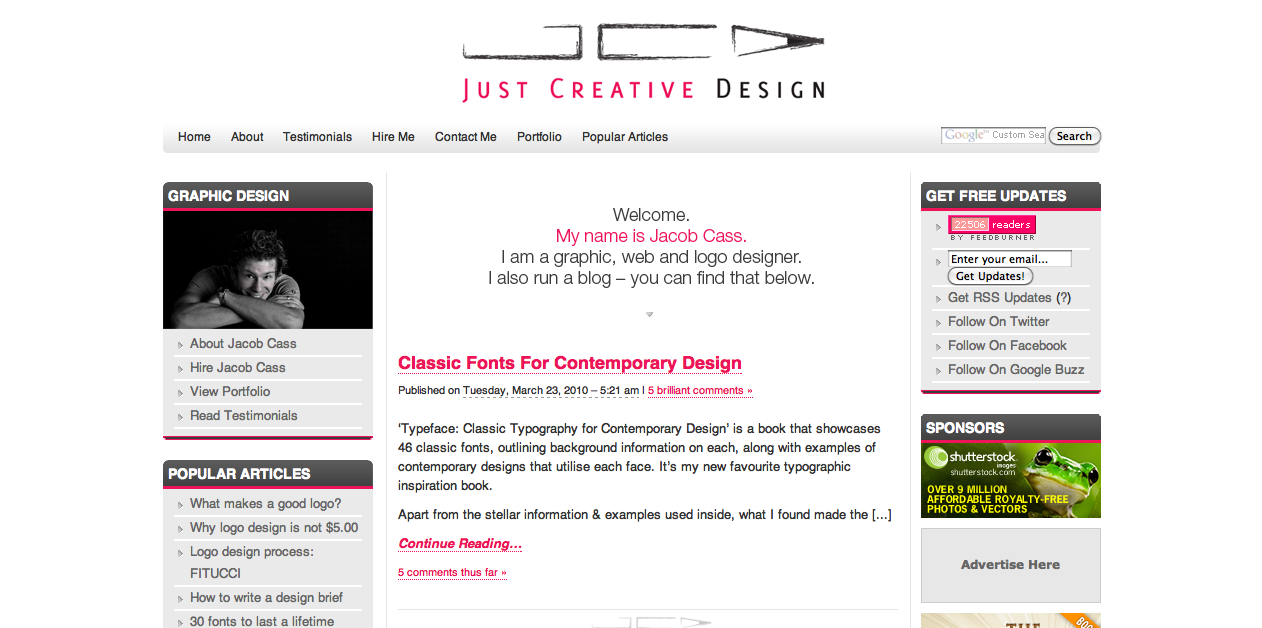 Brian: Hi Jacob, thanks for agreeing to this interview. Please tell us a little bit about yourself and your background on the internet.
Jacob: First off thank you for the opportunity to be published on Elite By Design, much appreciated Brian.
As for me, I am a graphic designer, web designer & brand identity designer who recently (Jan 6th 2010) moved from Sydney to New York City to work for an awesome new media design agency called Carrot Creative, made possible through a job offer on Twitter. When I am not working for Carrot Creative or freelancing, I focus my efforts across three other websites, Just Creative Design, Logo Designer Blog and Logo Of The Day.
Below is a bit of information about each of these sites:
Just Creative Design was launched in November 2007 as my design business and also as a graphic design blog. The blog focuses on all areas of design and creativity, ranging from but not limited to; graphic design, logo design, web design, advertising, branding, typography, designers, blogging, resources, my work, marketing, social media, user experience and more. Quite varied, however the underlying focus is design!
Logo Of The Day is a high-profile logo design award scheme that rewards the best professional logos and trademarks designed throughout the world. All suggested logos are screened by myself & Jeff Fisher to ensure this. Logo Of The Day is also a place to come for logo design inspiration… daily! It is also a place to discuss, share & rate logo design.
Logo Designer Blog is a blog focused purely on branding, logo & identity design. It is a place for logo design discussion, inspiration, tips and resources (and then some) provided by myself and the many contributors to the site.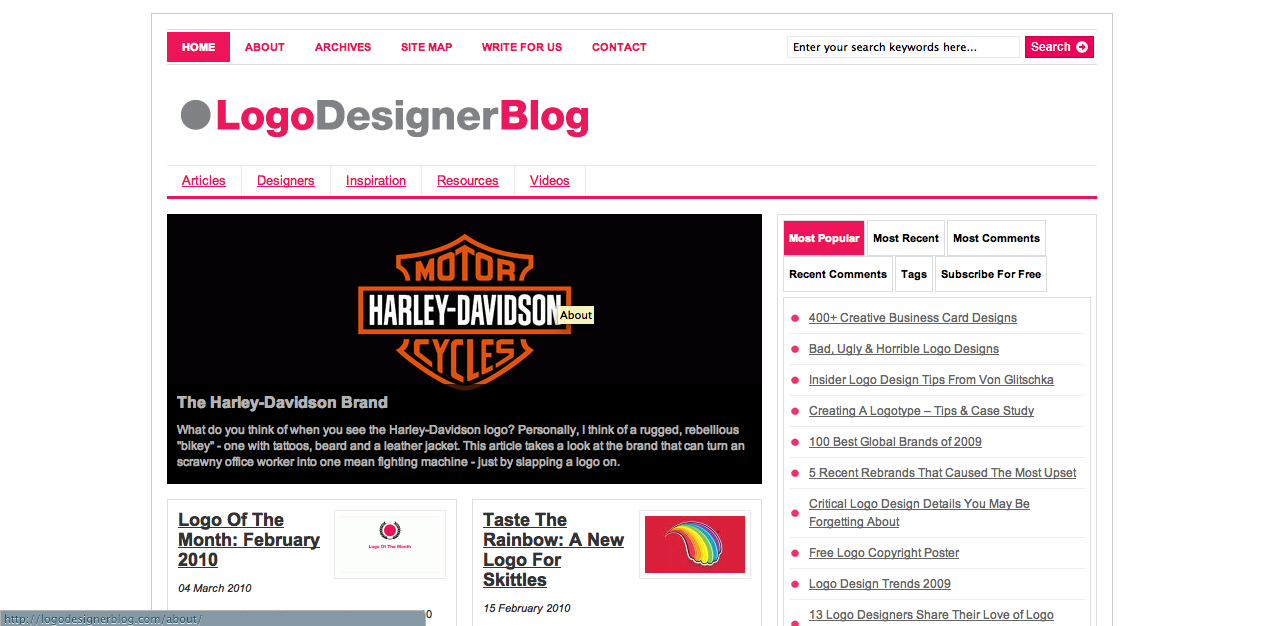 Brian: How has your experience with Carrot Creative been in these past few months? Has your ability as a designer been influenced at all by moving into the studio environment? Do you prefer working for an established company or freelancing?
Jacob: Working at Carrot Creative is simply awesome, made possible by a variety of aspects, the most notable listed below:
The team:
The young, tight-knit team (and occasional dog) that makes up Carrot Creative make it a very pleasurable place to work… many jokes, dances, pranks & entertainment to keep things fun at work. From Ambervision Monday to Colin's Bow Tie Tuesday to Van Damme Friday, there is always something to keep things lighthearted. Far from corporate.
The clients:
Another thing that makes Carrot an awesome place to work is the opportunity to work with some of the world's most vaunted brands. Carrot's clients have included such names as Weber Shandwick, Saatchi and Saatchi, Major League Baseball, JCPenney, The Onion, Pepsi, Unilever, Crayola and MTV, among many others so as you can see, there is a lot to live up to. Many more in the mix that I'm personally working with, though unfortunately can not disclose them… let's just say they are one of the top ten brands of the world.
The work:
The variety of work never ceases to amaze me… websites, identities, facebook apps, fan pages, iphone apps, packaging, email campaigns, etc… there is always something new to work on. The variety of work at Carrot ensures we never get bored with the work… variety is the slice of life after all.
The workplace:
The office of Carrot has a great vibe, lots of open windows (great view of the Manhattan bridge), open space and random paraphernalia everywhere. We have Idea Paint painted walls, great for brainstorming and many a Mac to work from. Even the walk to work offers quite a view. There are many more photos on the Carrot Creative website if interested in seeing more of the workspace. It is a very non corporate environment so jeans and a tee is def the way to go… though the girls do get the 'corpo' tag every now and then.
The socializing:
After work drinks, house parties, movie outings, snow ball fights, lunch breaks etc…. all things that make up the team. With such a young crew, it's hard not to have the same interests which make socialising a large part of Carrot Creative. Be sure to check out Badowski's social media mullet.
The future:
The future is very, very promising… I can't wait to announce the HUGE surprise near the end of this year. Things are slowly becoming a reality, so stay tuned for that.
As for your other questions, working in a studio environment has definitely been a positive experience, it's allowed me to add many new skills to my arsenal, though there is still a lot more to learn. I think every designer should experience both freelancing and studio life at least once in their life, most probably at the start of their career.
As for preference over freelancing or studio work, I think I prefer studio work but I guess this is because I am working at Carrot who are rather flexible… I am allowed to do my own side freelancing and run my own blogs while working for them and because the studio works mainly in the fields of social media, I can actually be on Twitter & Facebook and be doing 'work'. Not many studios allow this, so I'm pretty fortunate in this regard. Though in saying this I also thoroughly enjoy the freedom of freelancing, being able to choose who, what and when to work.
If you're interested in working for Carrot Creative, you should check out the careers page… you have to pass a series of 'Carrotreative' tests to apply. We get about 10 submissions a day so do whatever you can to grab our attention!
Brian: Has a geographic change (Australia to NYC) impacted your design business? How much of your business actually relies on face to face contact?
Jacob: The only thing that has changed is where I actually work. My business is still registered in Australia which allows me to have two separate incomes (one American and one Australian) which is always handy when it comes to tax. The vast majority of my clients are not located in New York so it makes it difficult to have face to face meetings, though I occasionally have meetings over Skype. Only when a client is in close proximity do I meet with them and even this is not entirely necessary, though sometimes it's nice to get a bit more personable with clients.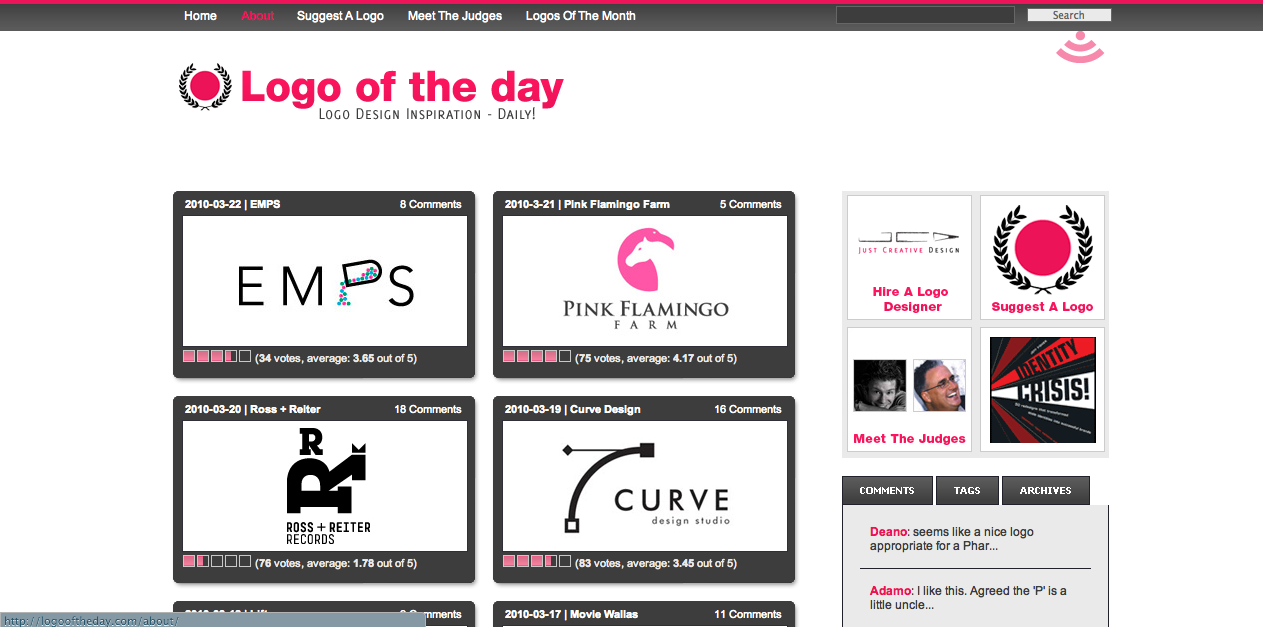 Brian: Based on the above questions: Do you believe that design is, by the nature of the internet, an international profession? Is local or face to face interaction necessary to establish oneself as a reputable designer?
Jacob: The very nature of the internet has brought many professions into the global market place which has obviously brought with it many benefits and drawbacks… we now have more opportunity yet a lot more competition.
I don't believe having face to face interaction is a necessity, though it does help build a closer relationship between the vendor and client. As long as the right message is received, does it matter how it was delivered?
As for becoming a 'reputable designer', the vast majority of this comes from having good work and getting it out there.
Brian: Your 'About' page goes on and on forever about your various awards, recognitions, speaking, exhibitions, events, etc. When was your tipping point to realize that you were an internationally recognized logo designer?
Jacob: My about page originally started out with a bit of information about me and my blog, though I realised I was loosing track of the places I was featured so I decided to add them to my about page for me to track my personal progress. From here, I soon realised that it wasn't just a personal progress, but a great marketing tool… it gave more respect (not sure if that's the right word) to me & my work. From here the list gradually grew, though I don't believe the tipping point has come just yet… I have a lot more left to learn. Thank you for the flattery though.
Brian: How do you make sure that every design you make is better than the last? How can new designers work to develop their own style and brand?
Jacob: Improvement is something everyone should strive for in their career, you never want to stand still, you'll simply be left behind, especially in an industry as fast moving as ours. From every project you will gain more and more experience and you should use this new knowledge to evolve & refine your process as you progress through your career. New designers should set out their goals and then create a business plan and brand identity to reflect these goals. ie. If you are looking for a job in an agency, your brand & marketing should reflect this.
Brian: What advice would you offer to young entrepreneurs looking to establish themselves in the online world?
Jacob: The biggest piece of advice that I would give an upcoming designer (or entrepreneur) comes in a 'package' based from the little things that I have learned over my short career as a designer. Don't undervalue your work. Seek criticism, not praise. Always keep learning & don't be a static learner: do this by reading books, magazines, blogs and by practising. Collect & share things. Teach others. Never give up. Keep practising. Again, keep practising. For further advice, check out this post that features advice for design students from seasoned design professionals.
Thank you once again Brian for the opportunity to be interviewed for Elite By Design, much appreciated.
Thanks again to Jacob Cass for this insightful interview. Please feel free to leave your thoughts and opinions in the comments section below!