David Airey is an internationally respected logo designer and creative. He blogs, designs, and has recently authored his very own Logo Design Love book. Today, I have the chance to talk with David about his design process, his new book, and the impact of social media on his business.
Name: David Airey
Location: Edinburgh, Scotland
Age: 30
Site(s): David Airey, Logo Design Love, Logo Design Love: A Guide to Creating Iconic Brand Identities, Iconic logo designers
Twitter: @DavidAirey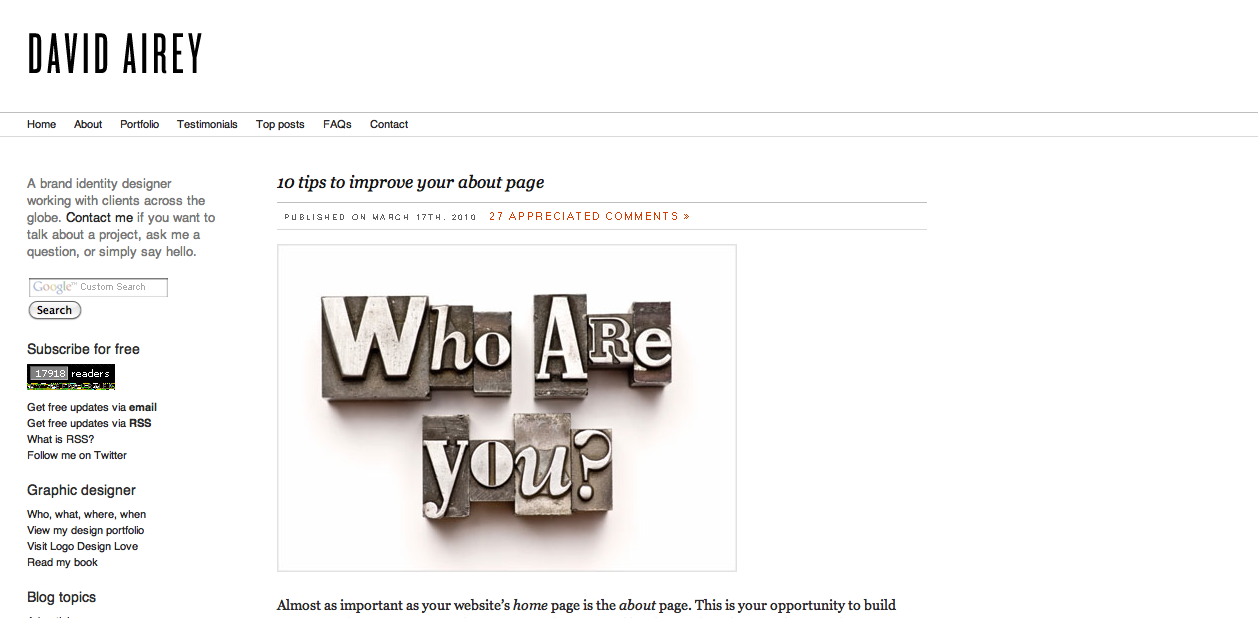 Brian: Hi David, thanks for agreeing to this interview. Please tell us a little bit about yourself and your background on the Internet.
David: Hi Brian, you're very welcome.
I'm a graphic designer and author from Northern Ireland, currently based in Edinburgh, Scotland. I became self-employed five years ago in 2005, and started my first blog (davidairey.com) in late 2006. In 2008 I launched a second blog (logodesignlove.com) and spend a couple of hours each day keeping both sites updated/responding to comments.
Brian: Describe your work behind the Logo Design Love book. Why is this book relevant to designers? Convince me to buy it – right now.
David: My work involved collaborating with approximately 40 designers and studios around the world in order to accurately record the process of creating iconic brand identities.
The book is relevant to designers because the process described isn't only used when creating logos. It's also used when creating posters, brochures, websites, and a host of other design-related projects.
I cover a lot of detail about dealing with clients, too, so the book helps with the business side of design.
Perhaps the best way to "sell" my book to you is to quote AIGA medalist Tom Geismar after he read the content:
"There are a lot of books out there that show collections of logos. But David Airey's Logo Design Love is something different: it's a guide for designers (and clients) who want to understand what this mysterious business is all about.
"Written in reader-friendly, concise language, with a minimum of designer jargon, Airey gives a surprisingly clear explanation of the process, using a wide assortment of real-life examples to support his points.
"Anyone involved in creating visual identities, or wanting to learn how to go about it, will find this book invaluable."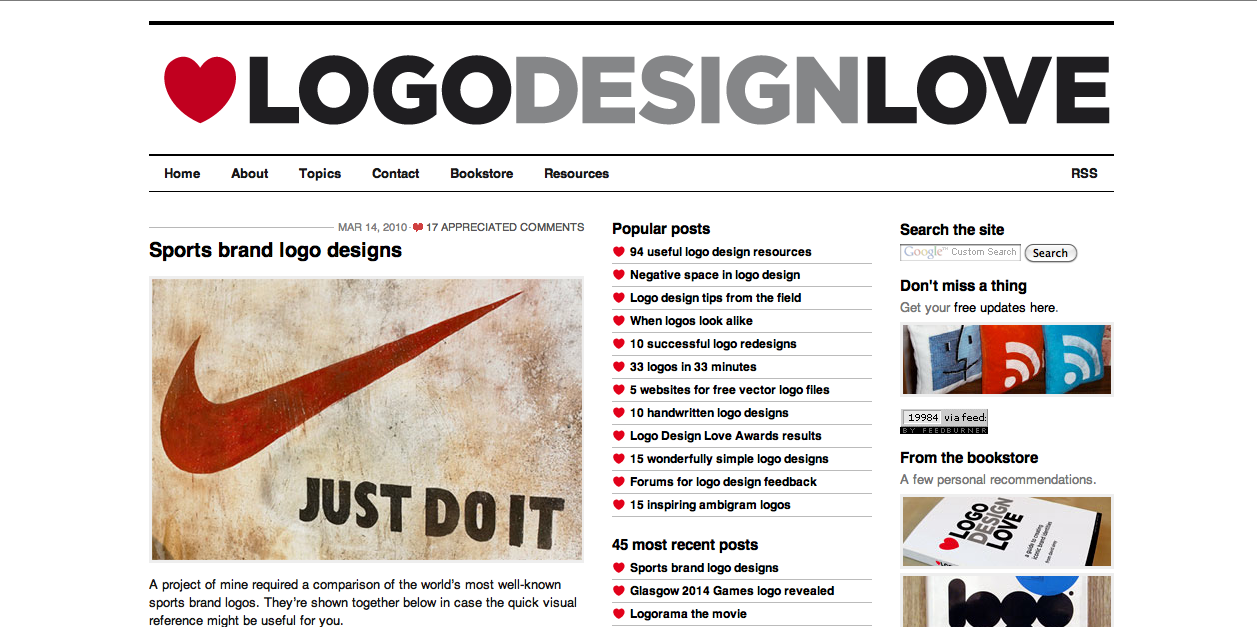 Brian: What were some of the biggest challenges you faced when writing your book? What did you learn, and how did you grow as a designer? Is another book in the works?
David: The paperwork involved was a huge task. For every logo shown in the book, I needed to provide my publisher with a permissions form signed by the designer responsible. Because of which, I have a whole new respect for Michael Evamy's gallery book Logo.
The biggest challenge was the editing. I worked with two professional copy/development editors, and they brought to light just how poor my writing skills actually were. I thought that by publishing blog articles for a few years previous, I'd be able to hold my own when it came to writing.
How wrong I was.
My book wouldn't be half of what it is without the help of my publishing team.
So in that respect, I learned a lot about writing, about editing, and about book publishing. I also learned a great deal about brand identity design, and although there's not yet another book in the works, I'm fairly sure I'll start planning one before too long.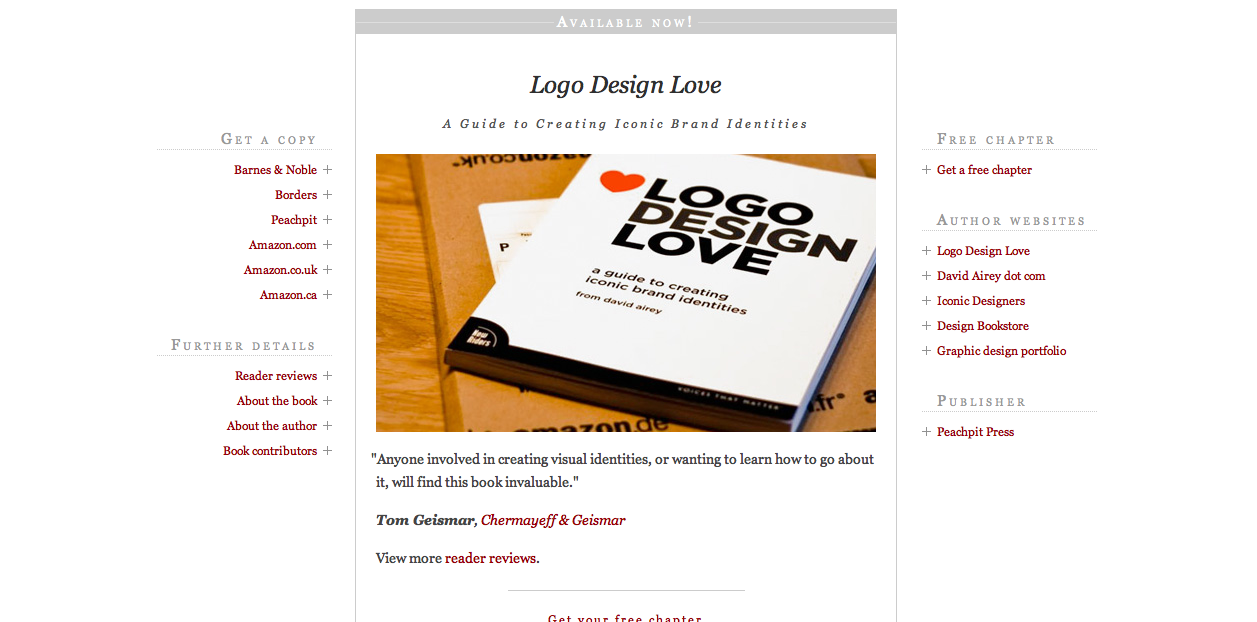 Brian: With over 10,000 Twitter followers, the David Airey brand has quite the social following. How do you use social media sites, like Twitter, to promote your work and attract new clients? Has this been successful so far?
David: I don't place much emphasis on the actual number of Twitter followers someone has. I've seen plenty of accounts with 20,000, 50,000, or even 100,000 followers, yet it's clear from the stream of messages or the owners accompanying website that the high number doesn't signify any tangible success.
Haven't you seen something similar? A Twitter account will have 30,000 followers, but it will be following 31,000, and there's the crux — it's easy to build a high number simply by following people first. These "you follow me, I'll follow you back" schemes make a farce of the tool.
I use Twitter as simply another way to chat with those interested in design, and as a way to share quick links I find interesting.
Has it lead to any new clients? Not that I know of.
Does it matter? No.
Brian: On your portfolio, you provide links to detailed design processes for each of your projects. Besides the obvious benefit for your readers, are there other reasons that you choose to detail your design process? Is it helpful for you to review your work after it has been completed, or does it make you want to go back in time and make changes?
David: Good question. I started showing more of the process because my blog readers were interested in it. Then I found that by doing so, potential clients gained more appreciation for the work involved behind the scenes. This helped gain trust, which is vital when doing business online — especially when more often than not, I only communicate with my clients by telephone, email, or video chat.
But yes, I look back on what I've done in the past and find myself wanting to make changes. I think that's a normal progression that every designer goes through.
Brian: As designers, we are constantly growing, refining, and developing a style of our own. What is your style, and how has it evolved since you started in logo design?
David: I've always favoured a simplistic approach to design — one where any unnecessary detail has been stripped to help what's left become easier to remember.
Simple doesn't mean easy, though, and there'll be a conscious thought behind every line, every shape, every space.
Rather than my style evolving, I think what has evolved more is how I deal with clients, how I present my work, and how I value what I do.
Brian: What advice would you offer to young entrepreneurs looking to establish themselves in the online world?
David: Don't sell yourself short by joining design contest websites. If you find yourself thinking you need to build your portfolio, try pro bono design instead.
You won't regret it.
Thanks again to David Airey for this insightful interview. Please feel free to leave your thoughts and opinions in the comments section below!
Giveaway
David has generously donated two copies of his Logo Design Love book to Elite by Design readers. This book is an insightful look at how to work with logos, deal with clients, and employ the creative process across a broad spectrum of design genres. You can download a free chapter or read some reviews to see what the book is all about!
How To Win:
1. To enter this giveaway you must tweet this giveaway
2. All tweets made before April 1, 2010 will be accepted. Winners will be announced during the first week of April.
4. Two Winners will be chosen randomly.